Wine to Asia 2020 will be held as scheduled in Shenzhen on November 9 -11
2020-2-15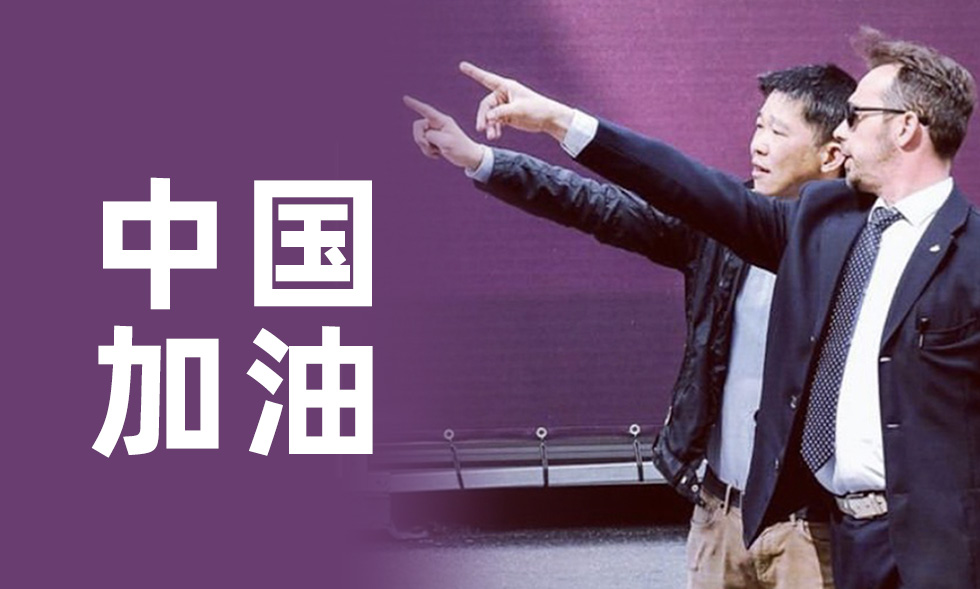 Keeping faith and focus on building efficient bridge between the world of wine and China to seize new business opportunities during the crisis.
Wine to Asia has been paying close attention to the Coronavirus situation in China. First of all, we would like to express our greatest appreciation for all the doctors and all associated staffs working in entire situation in Wuhan and all around the country. To avoid the novel Coronavirus epidemic and follow the national prevention work, all members of Wine to Asia team in China has started working online.
The Coronavirus has truly affected people, companies and economies, for safety reason, there are much-awaited events and exhibitions in the first half of 2020 having to cancel or reschedule. Yet in every crisis there lies opportunity. It is confirmed that the economy will return to normal in the second half of 2020 and there will be a retaliatory rebound in all sectors.
Wine to Asia will keep focus on building efficient bridge between the world of wine and China, supporting Chinese market and wine industry with updating trends and sharing knowledge in November as scheduled.
Shenzhen, the home of Wine to Asia, is one of China's most dynamic regions, located in the Greater bay area with a population of more than 100 million. Shenzhen's GDP is in excess of USD 358.2 billion, and its economic aggregate ranks No.5 amongst all Asian cities. From Shenzhen, with the largest number of importers, connecting to whole Asia, it's where exhibitors gain access to fresh and mature markets with professionals and purchasing decision-makers from the industry.
Wine to Asia sales team in China: sales@wine2asia.net
Wine to Asia communication team: info@wine2asia.net
---
The signing ceremony of Wine to Asia between Veronafiere and Shenzhen Pacco was successfully held in Shenzhen
2019-12-10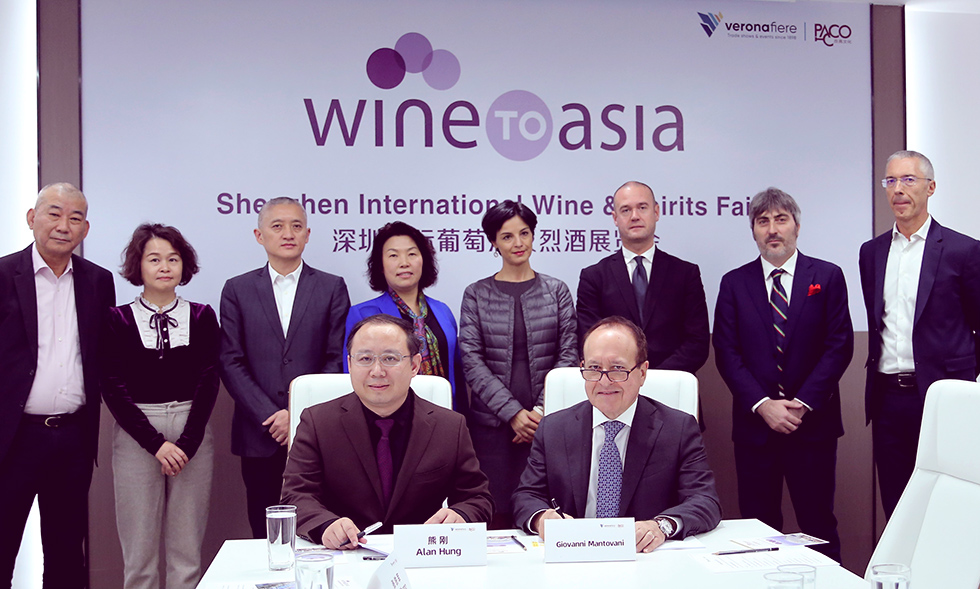 The signing ceremony of Wine to Asia between Veronafiere (the organizer of Vinitaly) and Shenzhen Pacco took place in the headquarter of Pacco's Shenzhen office on 10th December 2019.
The Consul General of Italy in Guangzhou,Lucia Pasqualini,the office manager at China- Italy Chamber of Commerce South China, Romina Di Martino, General manager of Veronafiere in Greater China, Simone Incontro,the President of Shenzhen Baina, Lorenzo Riccardi, the Vice Director of International Liason Department in Shenzhen, Minghua Wang, the Wine Section Secretary in Guangdong Provincial Alcohol Industry Association, Sally Chan, the Shenzhen Liquor Association Executive Chairman, Tiejun Zhang, the Shenzhen Wine Association Chairman and Secretary, Yun Ping Wu, Tie Chen, the CBE General manager, organizer of Shenzhen Catering Industry Chain & Supporting Services Expo, Haibo Li, and also the Founder of Shenzhen Pacco, Luna Yang, the Taoshow Culture Media Legal Representative, Xuhua Han attended and witnessed this important moment.
Wine to Asia is a new international wine and spirits fair organized by a joint venture between Veronafiere and Pacco. Set for 9-11th November 2020.
Alan Hung, CEO of Shenzhen Pacco introduced the Wine to Asia trade show. The first edition of Wine to Asia will be held in Shenzhen World Exhibition & Convention center, hall 6 & 8, with an exhibition area of 40,000m2. The fair is expected to connect international wineries and producers with professional buyers from China and Asia Pacific region, over 500 exhibitors will participate.
Giovanni Mantovani, CEO of Veronafiere said that Shenzhen is the best choice to host Wine to Asia, because Shenzhen is the most dynamic city in China as well as the center of Guangdong-Hong Kong-Macao Greater Bay Area. Mantovani also said ' This fair will be a truly international one since from the beginning'.
Lucia Pasqualini, Consul General of Italy in Guangzhou
The year 2020 is the 50th-anniversary of China-Italy diplomatic relations. Lucia Pasqualini, the Consul General of Italy in Guangzhou, expressed her support for Wine to Asia and she said '2020 is a significant year for China and Italy, and many important activities will be held this year. Wine to Asia can open up new business opportunities for the market, and also it's an important platform for cross-cultural interaction'.
Minghua Wang, CCPIT Shenzhen Vice Director International Liason Department
Minghua Wang, the Vice Director of the international Liason Department in Shenzhen, pointed out that Shenzhen is an international city, with convenient transportation, perfect facilities and a vibrant market, which is suitable for hosting international business events. She said 'We are looking forward to the opening of Wine to Asia, and I believe it can enhance the global influence of Shenzhen in this industry'.
Sally Chan, Guangdong Provincial Alcohol Industry Association, Wine section Secretary
Sally Chan, the Wine Section Secretary in Guangdong Provincial Alcohol Industry Association, mentioned that Guangdong Province occupies an important position in the wine industry. The big number of importers and the large amount of wine consumption can radiate the entire Chinese market. Wine to Asia is a platform that allows more high-quality wines and brands to demonstrate their strength.
After the signing ceremony, all the guests exchanged their ideas on the development of the wine industry. Tiejun Zhang, Yunping Wu and Tie Chen, they all presented their support for Wine to Asia.
Haibo Li, the General Manager of Shenzhen Guo Shang Expo mentioned that the third Shenzhen Catering Expo will be held in hall 2 & 4 at the same time, which means the wine fair and catering expo will have a total 80, 000m2, and jointly will create an unprecedented event in the wine industry and catering industry in Shenzhen.